California Homeowners Insurance Quotes
California has it all, some of the best cities on the planet, beautiful beaches and landscapes that will take your breath away. While the scenery is top notch in the Golden State, our residents are what make this an extra special place to live, we have some of the friendliest people in the world calling California home.
California is third largest state in the country and our miles of shoreline, redwood forests and cultural meccas draw visitors and new residents by the thousands each year. Whether you decide to settle down in a major city like Los Angeles and San Francisco or a smaller locale like Mendocino, living in California is like living in paradise.
California Facts
California is the most populous state in the country and over 38 million people call it home. In fact, one out of every eight U.S. citizens lives in the Golden State. California contains two of the most populous statistical area's in the country, the Greater Los Angeles area is number two and the San Francisco Bay Area is number five. It doesn't stop there, California has 8 of the 50 most populated cities in the U. S.
Luckily California is also home to tons of housing options. Everything from low cost apartments to multi-million dollar homes are available in cities such as San Bernardino, San Diego or Fort Bragg.
California has a median household income of $57,287 a year, which makes it number 10 in the country. Incomes, and the cost of living can vary dramatically across the state. While some areas can be costly, others are extremely affordable.
According to Zillow, the median home value in California is a fairly pricey $436,600 that is a 6.7 increase over last year. The prediction is that prices will be headed up 2.2 percent next year so now is a great time to get into the market. While the median home price is fairly high, there are a number of very affordable areas. Sacramento has a reasonable median home price of $259,900 and Fresno is a bargain at $177,000.
Homeowers Insurance in California
California ranks pretty well when it comes to the cost of homeowners insurance. The Golden State ranks 17th with a median price for of roughly $800 per year.
Bundling policies is an excellent way to drive down the costs of your homeowners premium. Insuring your car and home with the same insurer can save up to 20 percent on your premium. Shopping your coverage will help you find the best deal on insurance and our site can help you with that task. We compare multiple carriers at once and the service is always free and convenient.
Factors to Consider in California
Earthquake damage is not covered by a standard homeowners policy. Because California is prone to shakes and quakes, it is advisable to purchase a separate earthquake policy. Prices will vary depending on where you decide to live but you should absolutely consider this coverage to protect your home.
Fires can be another destructive force that Californians have to deal with on a regular basis. They can be an issue in both large cities such as Oakland or small north coast communities like Klamath.
While damage from smoke and fire is covered by a standard policy, documenting your possessions can be key to making sure you are fully paid in the event of a total loss. Using an app can help speed up the home inventory process dramatically. You can enter information directly on your phone and even attach a photo.
In addition to natural disasters, crime rates will have an affect on homeowner premiums. According to Federal Crime statistics, California ranks 14th in the country's most dangerous states with Oakland being the most dangerous city in our fair state.
Check crime rates in any area that you are considering and have your agent run an insurance quote so there are no surprises when its time to close on your new house.
Local California Home Insurance Rates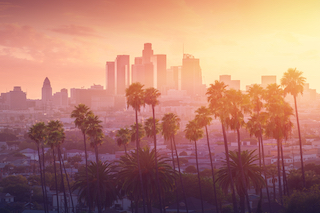 Check out our recent homeowners in Los Angeles, CA, competitive rate of $998 per year. Average rates range from $748 to $1298. See details on average rates within the city of Los Angeles. - Get Los Angeles Home Insurance Quotes! or Give us a call now at 1-855-976-2656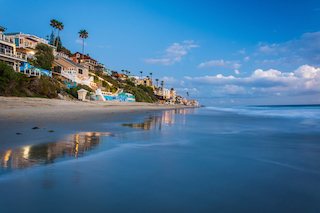 Check out our recent homeowners in Laguna Beach, CA, competitive rate of $875 per year. Average rates range from $625 to $1175. See details on average rates within the city of Laguna Beach. - Get Laguna Beach Home Insurance Quotes! or Give us a call now at 1-855-976-2656
Average Homeowners Insurance Premiums in CA
With over 95% of all Americans are known to have homeowners insurance coverage, it's important to know what CA homeowners are paying on average. Did you know that the average homeowners insurance premium in CA is $1241? CA is now ranked 24 in the country. The country wide average for homeowners in the United States is $1,311. This means the average home insurance premium in CA is 5.34% less than the national average.
| Year | Average Annual Premium | Average Monthly Premium | State Rank (Overall) |
| --- | --- | --- | --- |
| 2020 | $1241 (5.4%) | $ 103 | 24 |
| 2019 | $1177 (9.7%) | $ 98 | 28 |
| 2018 | $1073 (6.25%) | $ 89 | 31 |
| 2017 | $1008 (0.8%) | $ 84 | 32 |
| 2016 | $1000 (1.41%) | $ 83 | 32 |
When we combine the state averages over the last decade, the CA overall average is estimated to be around $1,115.73. Our homeowners insurance quoting and rating process helps you compare homeowners insurance quotes, coverages and premiums. CA current state rank compare to the rest of the country is #24. Consider shopping your CA home insurance with us so we can help you save up to 40% or more on your policy.
Find Local CA Homeowners Insurance Quotes & Coverage
For more information on homeowners insurance in your area, choose a county below:
CA Homeowners Insurance News & Information
CA Housing & Real Estate Data
| Details: | Staticstics |
| --- | --- |
| Total Housing Units | 13680081 |
| Occupied Housing Units | 12577498 |
| Vacant Housing Units | 1102583 |
| Vacant Housing Units for Rent | 374610 |
| Vacant Housing Units Rented Not Occupied | 20347 |
| Vacant Housing Units For Sale | 154775 |
| Vacant Housing Units Sold Not Occupied | 34288 |
| Vacant Housing Units For Seasonal Occasional Use | 302815 |
| Vacant Housing Units All Other Vacants | 215748 |
| Housing Units Homeowner Vacancy Rate Percent | 2.1 |
| Housing Units Rental Vacancy Rate Percent | 6.3 |
| Housing Tenure Occupied Units | 12577498 |
| Housing Tenure Occupied Units Owner Occupied | 7035371 |
| Housing Tenure Occupied Units Owner Occupied Population | 20742929 |
| Housing Tenure Occupied Units Owner Occupied Averge Household Size | 2.95 |
| Housing Tenure Occupied Units Renter Occupied | 5542127 |
| Housing Tenure Occupied Units Renter Occupied Population | 15691211 |
| Housing Tenure Occupied Units Renter Occupied Average Household Size | 2.83 |
Understanding CA Homeowners Insurance
When shopping for CA homeowners insurance quotes you should be aware of the various types of insurance policies that are available in your area:
HO-3: This is the most common type of homeowers policy. This policy type protects your home against all perils, except ones that are specifically excluded. In most cases earthquake and flood damage are excluded.
H0-6: This policy type is specifically written for condos or co-ops. If you own a condo or live in a co-op building this type of policy is a necessity. A HO-6 policy covers both your personal belongings and the structural parts of the building that you own. There are 16 disasters listed on a typical policy that HO-6 protects against.
HO-4: If you are looking for CA renters insurance, a HO-4 policy is a great option. Renters insurance will cover your contents as well as offer liability coverage in the event a person is injured in your apartment.
While other types of policies exist, these are the most common ones. A HO-2 is a more basic policy that offers reduced coverage levels and a HO-5 is a high-end policy that offers increased protection.
If you are shopping for a new home in CA, homeowners insurance is a must do. We can help you find the perfect policy for your new home, regardless of whether you need a standard HO-3 policy, HO-6 or renters insurance, our site makes shopping for homeowners insurance quotes easy. Visit our online quoting application today and let us help you shop and compare up to 12 different CA rates and coverage options.